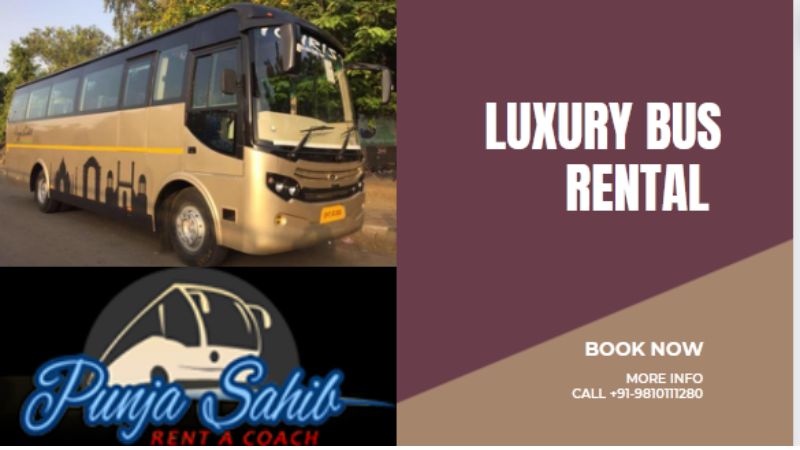 If you are planning to visit Delhi, you can consider Bus on Rent in Delhi available at affordable rates. It is one of the best ways to enjoy yourself in groups.
Delhi (the National Capital of India) is counted in the list of one of the most chosen tourist destinations in India. It has a lot of tourist attractions points and a large number of tourists from all over the world visit Delhi. They come here to explore its historical and new manmade attractions.
The top point of attention in Delhi
Red Fort, Humayun's Tomb, Rajghat, India Gate, Jama Masjid, Qutub Minar, Lotus Temple, Birla Temple, Akshardham Temple, Old Fort, Lodhi Garden, Rajpath, etc can be on your list if you are coming for Delhi city tours. Well, if you are coming in a group, you confidently need some good means of communication. No doubt, a bus on rent in Delhi would be one of the best choices available for you. Travellers can easily explore the attractions of this historic city happily by renting a car from one of the renowned car rentals in Delhi.
Go for the professional rental company
Bus rental firms even give car rental or taxi rental services from Delhi to adjoined cities as well. Delhi is supposed to be standing to visit several world-famous tourist places in North India. You can take a bus on rent to visit Agra, Bharatpur, Corbett, Ranthambhore, Jaipur, Mussoorie, Shimla, Manali, Srinagar, Kullu, Kashmir, Gulmarg, etc.
Popular and renowned destinations can be quickly accessed and visited by bus. Therefore, tourists can rent a bus from a renowned car rentals services in Delhi. It makes their travel to these destinations convenient and quite comfortable.
Travellers can take pleasure in travel and tours in the golden triangle travel route of India by a car in highly pleasant and suitable way. Golden Triangle is supposed the best travel circuit in India which wraps up three predominant and historic places of India including Delhi, Agra and Jaipur.
Make a reservation to avoid last-time rush
If you are planning to visit Delhi during the festive season, it would be better to plan things. To make sure your trip does not get hampered, you may wish to reserve beforehand in advance. You can go ahead to confirm the reservations a week before D-day. Commonly, weddings and more special events are held during holidays or even weekends. It is hard to make a reservation at the same time sometimes become difficult.
Focus on Security
If you are travelling with your family, you should choose a bus rental service that gives you surety about the safety of the passengers. The windows, as well as the doors of the bus, must have a good locking system and security. Moreover, you should check the records of the driver and license before booking the bus on rent.
Luxury Bus Rental Delhi must be the one that makes sure about passenger safety and a comfy ride to the destination on time.