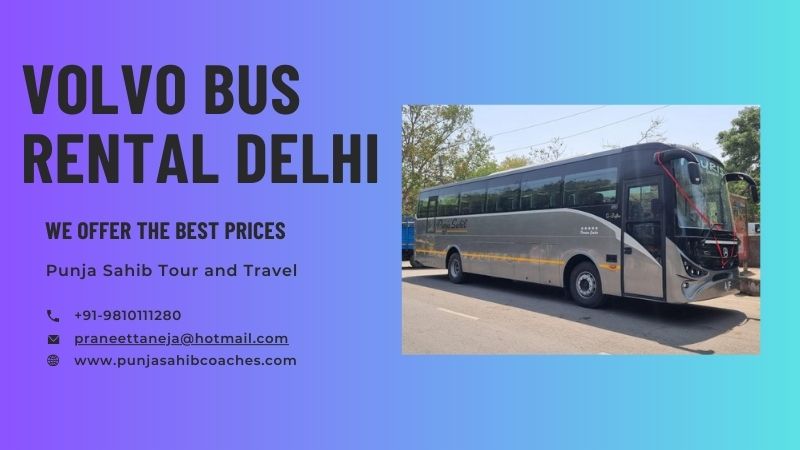 Volvo Bus Rental Delhi services are available for people who need to cover long or short distances with full entertainment.
Travelling is something that can be best enjoyed by passengers to make the journey completely hassle-free. If you are travelling in a group, choosing the right transport option can be a major hurdle. Travelling long distances with friends and family can create problems and take away all the fun of travelling. Therefore, it would be better to hire a bus rental service that can be a practical and convenient solution.
There are several reasons why one should go for Volvo Bus Rental Delhi when planning any kind of trip with more than 15 people:
Comfort: We all prefer to travel comfortably without having to stuff ourselves in an overcrowded space. It is just terrible to force people into a packed space and then cover miles. This kind of tour would be uncomfortable, not to say it can be troublesome. However, you can make things easier for yourself by renting a Volvo bus. The bus will give sufficient open space to those travelling.
Trained Drivers: Let's consider it: driving while following long trips and journeys can be a really difficult job. All tour bus rentals have well-trained drivers who are well-versed in the Indian routes and road safety measurements. Appointing a professional driver makes sure that everyone can enjoy the journey without any difficulty.
Economical and budget-friendly: Opting for a rental bus service provider in Delhi rather than hiring a couple of cars No doubt, it is going to be more budget-friendly and cheaper. The client can save on the big amount splurged on fuel and vehicle maintenance. Moreover, travelling in different vehicles and constantly coordinating between the cars as well as their drivers can make things hard. Therefore, it would be better to choose a single large vehicle driven by a professional and experienced driver.
Stay entertained: Travelling in a group on a rental bus can be a lot of fun. The Volvo rental buses have music systems and other kinds of onboard entertainment to keep the travellers entertained. It is a wonderful way to spend quality time while covering long distances. Moreover, it gives everybody the possibility to take in the beautiful view that covers them at the time of the journey. They can kick back, stretch out, and unwind all along the way.
Give Sufficient Luggage Space: Traveling needs luggage, and going on a trip with a large group of people needs a lot of luggage. It is not easy to fit a group of people and their endless bags into a small car. On the other hand, the rental buses come with a sufficient amount of luggage space.
So, make the practical choice and take pleasure in an easy and stress-free journey by selecting to travel with a bus rental service. Contact the service provider to find the suitable services.