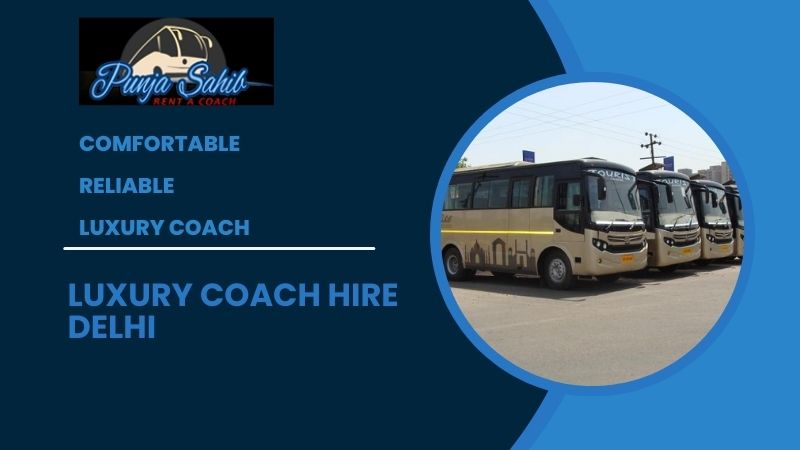 Delhi, the bustling capital of India, attracts tourists, business travellers, and event organizers from all over the world. When it comes to group transportation, luxury coach hire services offer a convenient and stylish solution. Whether it's a corporate event, wedding, sightseeing tour, or any other group activity, luxury coaches provide a comfortable, reliable, and luxurious mode of transportation in and around Delhi.
Luxury coach hire services in Delhi provide a premium travel experience for individuals, groups, and organizations. With their emphasis on comfort, elegance, professionalism, and reliability, these services elevate the standard of group transportation. Whether it's for business or leisure purposes, luxury coaches offer a luxurious and convenient mode of travel, allowing passengers to arrive at their destinations in style. With their commitment to customer satisfaction and safety, Luxury Coach Hire Delhi are the ideal choice for those seeking a memorable and hassle-free travel experience in the vibrant capital city.
Reasons to hire luxury coach in Delhi
Unmatched Comfort and Elegance:
These services in Delhi provide passengers with a premium travel experience. These coaches are equipped with spacious and plush interiors, featuring comfortable seating, ample legroom, and amenities that ensure a relaxing journey. The luxurious ambience, elegant decor, and high-end finishes create a sophisticated and comfortable environment, adding a touch of luxury to every trip.
Professional and Courteous Staff:
It pride themselves on providing exceptional customer service. The staff, including the drivers and support personnel, are highly trained professionals who prioritize passenger safety, comfort, and satisfaction. They have a thorough understanding of the city's routes, traffic patterns, and local attractions, ensuring a smooth and enjoyable journey for passengers.
Versatility and Customization:
Luxury coaches come in various sizes and configurations to accommodate different group sizes and travel requirements. From smaller coaches for intimate gatherings to larger coaches capable of seating a significant number of passengers, there are options available to suit every need. These coaches can be customized with amenities such as air conditioning, Wi-Fi connectivity, entertainment systems, and even onboard refreshment facilities, ensuring a tailored experience for passengers.
Reliability and Punctuality:
These services understand the importance of punctuality and reliability. They value the time and schedules of their passengers, ensuring timely pick-ups and drop-offs at designated locations. Whether it's for airport transfers, hotel transfers, or event transportation, these services prioritize promptness and efficiency, allowing passengers to focus on their activities without worrying about transportation logistics.
Safety and Security:
Safety is paramount when it comes to hiring these services in Delhi. These services adhere to stringent safety protocols, ensuring that their coaches are well-maintained, regularly serviced, and equipped with safety features such as seat belts, GPS tracking systems, and emergency exits. Additionally, the drivers are experienced professionals who follow all traffic regulations and prioritize passenger safety at all times.
Sightseeing and Tour Packages:
These services in Delhi often offer comprehensive sightseeing and tour packages, catering to both domestic and international tourists. These packages include visits to popular attractions, historical sites, cultural landmarks, and shopping destinations. With knowledgeable guides and well-planned itineraries, passengers can explore Delhi and its surroundings in comfort and style, gaining a deeper appreciation for the city's rich heritage and vibrant culture.