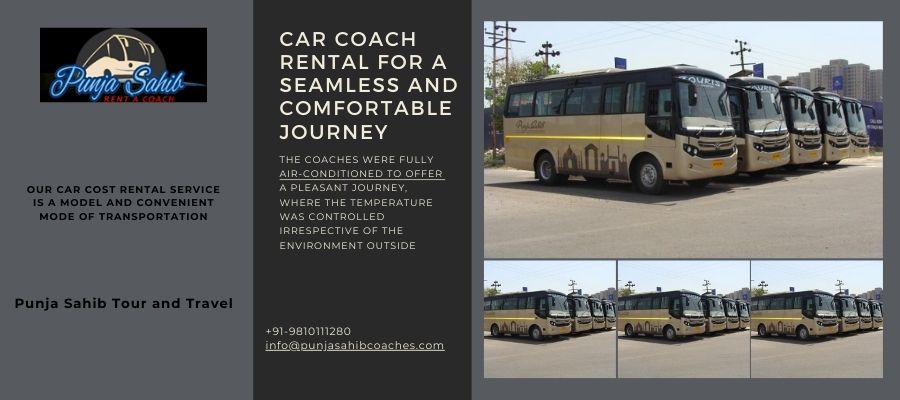 Everyone loves travelling. However, when it comes to picking up the right travel partner, it can be challenging. Car coach rental in India have become quite popular these days. They offer a wide range of benefits and can be used for different purposes such as family, holidays, business events, and even school excursions. The services of comfortable, seating and air-conditioning with skilled and experienced drivers ensure safe travel. This article explores the advantages of car cost rentals for different occasions.

Family Holidays
Family holidays are for enjoyment and relaxation. With a car coach rental, you can enhance this experience. You get comfortable and spacious seating that allows your entire family to travel together. The coaches or off and equipped with entertainment options, keeping passengers engaged throughout the journey. It is a modern and convenient choice for family vacations.

They come with air conditioning which is important for family trips as it offers a comfortable and refreshed journey throughout. Whether you are travelling to a theme park, a resort or a beach, a car cost rental, will make your journey, comfortable and enjoyable.

Business Trips
It is seen that many businesses are organising trips and events and need car coach rental services. This helps them with a convenient and professional transportation solution. With car coach rental, they can take their clients, delegates and employees to various meetings, conferences and seminars. The comfortable and spacious seating offered by in-car coaches is a great place to discuss, relax or network during the journey. They are also fully air-conditioned for everyone's comfort irrespective of the weather conditions.

Additionally, car coaches are driven by experienced drivers, who are well-versed and skilled. They are familiar with the route, schedules and traffic conditions that help in streamlining the transport, offering efficiency and punctuality.

School Excursions
When it comes to school excursions, it is extremely important and critical to have the best transportation service. Car cost rental services play an important role in ensuring the safety and comfort of school students during the trips. They are equipped with comfortable, seating and air-conditioning to allow students to relax and engage in different activities throughout the journey.

They are also driven by skilled drivers who are aware of road safety and driving. They follow strict safety protocols. Car coach rental in Indiahave these facilities available at one click.

Additionally, car coaches, undergo routine, maintenance, and servicing, which is a critical practice so that they are in top condition for such excursions and contribute to the safety of the students.

Modern Amenities and Entertainment
These car coaches are designed in a modern way with various amenities and modern entertainment. This provides a more enjoyable travel experience. Many coaches are also equipped with video screens and audio options that can be customised according to the preferences of the passengers. This keeps the passengers entertained and makes a long journey more enjoyable.

Moreover, many car coach rental services offer Wi-Fi options. This allows the passengers to stay connected to the outside world during their travel. All these modern amenities in a digital age make the journey transform into an overall travel experience.

Air Conditioning and Comfortable Seating
The coaches were fully air-conditioned to offer a pleasant journey, where the temperature was controlled irrespective of the environment outside. This helps the passengers relax and enjoy. The seeds have ample legroom and are well paid so that the passengers can relax, stretch out and enjoy the journey without feeling cramped up.

Skilled and Professional Drivers for Safe Travel
These car coaches or driven by skilled and experienced drivers who have handled numerous vehicles and possess the knowledge of navigating various routes and traffic conditions. They also prioritise the safety and adhere to the traffic rules and regulations.

They are also skilled in providing a smooth and comfortable ride without any rash driving and minimal disturbance.

Routine Maintenance and Servicing
It is important that regular maintenance and servicing should be done. It keeps the car coaches in optimal condition. This practice maximises the performance and minimises any risk of breakdown during the journey which can hamper the peace of mind of the passengers. It also helps in keeping the interiors of the coach and proper condition starting from the seats to the air-conditioning and entertainment system.

Overall, our car cost rental service is a model and convenient mode of transportation. It can be used for various purposes and have numerous advantages that extend beyond comfortable, seating and air-conditioning. They come with experienced drivers and proper maintenance which offers reliability and quality of service.