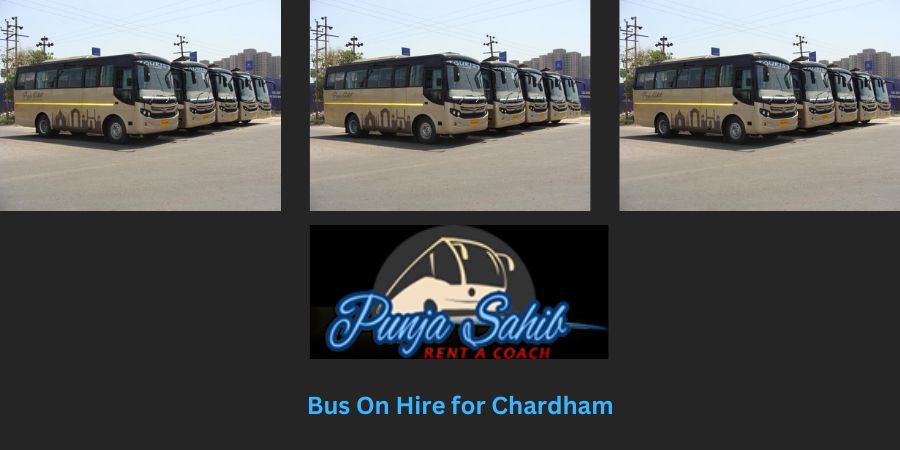 In India, starting the sacred Chardham Yatra is a journey that has great spiritual significance. A life-changing experience can be had by making the pilgrimage to the four holy places of Yamunotri, Gangotri, Kedarnath, and Badrinath. Bus On Rent For Chardham becomes a great choice to make this journey convenient and enjoyable.
Availability and Comfort:
For the Chardham Yatra, renting a bus offers unmatched comfort and convenience. Large groups of devotees can ride together on a comfortable bus while exchanging experiences to further their spiritual development.
Seamless Group Travel:
Coordinating transport might be a challenge when planning a group trip for the Chardham Yatra. This procedure is streamlined by renting a bus, which guarantees that everyone travels together and on time. Additionally, it makes sure that everyone feels a feeling of community throughout the voyage.
Professional Drivers:
Using a bus rental agency for the Chardham Yatra ensures a qualified driver will be in charge. All pilgrims travel in safety and security thanks to skilled drivers who are familiar with negotiating the treacherous terrain of the Himalayas.
Cost-Effective Option:
A full bus rental for the Chardham Yatra may seem like a big financial commitment. However, it becomes a more affordable choice when the expenditures are shared among the group members. It does away with the requirement for numerous separate bookings, lowering total costs.
Customized Itinerary:
The ability to design a unique Chardham Yatra itinerary is provided through bus rental. The length of stops, the locations they want to visit, and the amount of time they choose to spend at each holy site are all up to the pilgrim.
A Moving Communion:
The Chardham Yatra transforms a bus ride into a stirring unity of beings seeking spiritual enlightenment. An environment of solidarity and dedication is created during the voyage by telling tales, singing hymns, and having conversations.
Tips for Renting a Bus for Chardham Yatra:
● Plan Ahead: Make reservations far in advance to ensure that a suitable bus will be available. Especially during the busiest seasons for pilgrimages.
● Check facilities: For a comfortable ride, prioritise buses with facilities like comfy seating, air conditioning, and spotless restrooms.
● Check for Licencing: Make sure the bus rental company has all the appropriate permissions and licences to operate in the area.
● Ask About Drivers: Find out about the knowledge and experience of the drivers who will be travelling with you.
● Examine Insurance Coverage: Make sure the bus rental has sufficient insurance in case of unanticipated circumstances.
● Read reviews: This helps to learn more about various bus rental companies. This also helps you get a sense of their reputation and level of client satisfaction.
● Clear Cost Details: Understand the total cost clearly, taking into account fuel costs, driver expenditures, tolls, and taxes.
The Chardham Yatra involves more than merely travel. Thousands of devotees are drawn to it every year because it is a spiritual awakening experience. This holy excursion is made even more convenient, comfortable, and cohesive with a Bus On Rent For Chardham.
With experienced drivers in charge and comradery among fellow travellers, the bus transforms into a means of spiritual inquiry in and of itself. Pilgrims can guarantee a pleasant and rewarding Chardham Yatra by following the advice provided for renting a bus. They come away from it with priceless memories and a deeper feeling of loyalty.