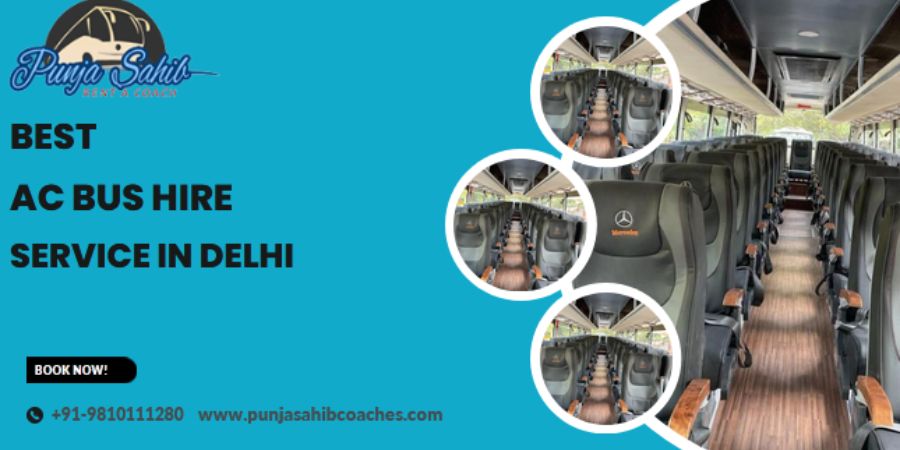 When it comes to group travel in Delhi, hiring an air-conditioned (AC) bus can provide convenience, comfort, and flexibility. However, with numerous AC Bus Hire Delhi services available, selecting the best one can be a daunting task. In this article, we will guide you through the essential factors to consider when choosing the perfect AC bus hire service in Delhi.
Determine Your Requirements
Before you start searching for an AC bus hire service, it's crucial to define your requirements. Consider factors such as the number of passengers, the duration of the trip, and any specific amenities you may need. By having a clear idea of your requirements, you can find a service that caters to your needs.
Research and Compare Options
Next, conduct thorough research to identify the AC bus hire services available in Delhi. Look for companies with a good reputation, positive customer reviews, and a track record of reliability. Make a list of potential candidates and compare their services, fleet size, pricing, and customer support. This step will help you gauge the professionalism and reliability of each service provider.
Verify Safety Measures
Safety should be a top priority when choosing an AC bus hire service. Ensure that the company you select follows all safety regulations and standards. Check if their vehicles undergo regular maintenance and inspections. Inquire about the qualifications and experience of their drivers. Additionally, verify if they provide insurance coverage for passengers. By prioritizing safety, you can ensure a secure and worry-free journey for everyone.
Evaluate Fleet and Amenities
Examine the fleet of buses offered by each service provider. Consider factors like the size and capacity of the buses, cleanliness, and overall condition. Check if the buses are equipped with modern amenities such as comfortable seating, air conditioning, charging points, Wi-Fi, and entertainment systems. Assessing these features will help you provide a comfortable and enjoyable experience for your group.
Consider Pricing and Packages
Pricing is a crucial aspect to consider. Obtain detailed quotations from shortlisted AC bus hire services and compare them. While affordability is essential, avoid compromising on quality and safety for a cheaper option. Look for transparent pricing without hidden costs. Some services may offer package deals for specific durations or destinations, so evaluate those offers.
Seek Recommendations and Reviews
Seek recommendations from friends, colleagues, or acquaintances who have previously used AC bus hire services in Delhi. Their firsthand experiences can provide valuable insights into the reliability and quality of different service providers. Additionally, read online reviews and ratings on trusted platforms to gather more information and make an informed decision.
Assess Customer Support
Good customer support is crucial throughout your journey. Inquire about the availability and responsiveness of the AC bus hire service's customer support team. A reliable service provider should be easily reachable and willing to address any concerns or issues promptly.
Choosing the best AC bus hire service in Delhi requires careful consideration of several factors. By conducting thorough research, you can make an informed decision and ensure a comfortable and enjoyable group travel experience in Delhi. Remember, investing time in selecting the right AC bus hire service is key to a successful journey.